Friday, August 20, 2010
10:24 PM | Posted by Lori |
|
Edit Post
Scrapkit by Travlyn Womyn http://travlyn.blogspot.com
Template by Britanee; a Sarah Bennett CT blog freebie
Here's a preview of the kit, it's
Travlyn Womyn's
portion from
Moo Two's Forum
Paint the Barnyard Colour Challenge. Come on over and join the fun over there, lots of challenges and prizes for participation!! Fun, Fun, Fun!!
Kit Preview:
More paper add on to her kit with some FAB overlays in it!!:
Here's the layout from her kit:
and another layout using other designers kits from the same challenge:
Papers by SandEz Creationz
Bead Spray and flowers by Panda BearDesigns
Ribbon by Gloria Val Verde
(all from the Paint the Barnyard Colour Challenges at Moo Two)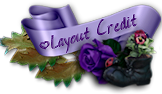 Thanks to Shani of
Wicked Princess Scraps
for the use of her kit,
Strength In Me
, a FTU kit to help raise awareness in testicular cancer. No matter what kind of cancer it is, if you love someone with cancer, be by their side and 'Love them through it'.

Lori

Hello, my name is Lori. I work full time as a Grooming Salon Manager, I LOVE my 4 legged 'Babies'! (Hence the name of my blog) I'm soon to be married to a Great man, Put (actually it's his nickname). I have 2 Beautiful Daughters and 1 Handsome Son. I also have 2 Grandsons, Hunter and Trey, and a Step-Grandson, Logan! In my spare time I love to make tags and scrap page Lo's! I hope you enjoy and come back often!
View my complete profile