Saturday, April 17, 2010
7:22 AM | Posted by Lori |
|
Edit Post
This is Hunter and a family members friends child, Ashton. It's another layout from the family reunion, this was a Pirate Ship Fun House that the kids loved! They get on the ship, play in balls, climb a rope cross a swinging bridge and slide down a slide, all on the 'ship'! We stayed on this one thing for a long time....the boys loved it!! Using a FTU kit by Jamie Dell Scraps, link below the preview.
You can be find the kit
here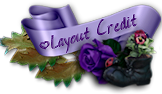 Thanks to Shani of
Wicked Princess Scraps
for the use of her kit,
Strength In Me
, a FTU kit to help raise awareness in testicular cancer. No matter what kind of cancer it is, if you love someone with cancer, be by their side and 'Love them through it'.

Lori

Hello, my name is Lori. I work full time as a Grooming Salon Manager, I LOVE my 4 legged 'Babies'! (Hence the name of my blog) I'm soon to be married to a Great man, Put (actually it's his nickname). I have 2 Beautiful Daughters and 1 Handsome Son. I also have 2 Grandsons, Hunter and Trey, and a Step-Grandson, Logan! In my spare time I love to make tags and scrap page Lo's! I hope you enjoy and come back often!
View my complete profile