Thursday, February 17, 2011
5:16 PM | Posted by Lori |
|
Edit Post
I've been wanting to do a couple of LO's for my daughters wedding that didn't use a wedding kit but instead a Mardi Gras kit, since her wedding was Mardi Gras themed. Well, I didn't have any kits I really liked, until now!! There are some wonderful kits on this fab blog train my great friend Shani is on with 10 other desingers and they are FTU!! Below is the link to Shani's Mardi Gras kit and she has links to the others on her blog!! Hope you enjoy the LO's as much as I enjoyed making them!! Also, I'll be doing a tut or two with this particular kit and a couple of templates from the blog train as well!!
Here are the LO's!!
first LO's template is by
Vanessa Fellows of Scraps 'n Bitz Designs
from the Feb. template challenge at the
Moo Two forum
Top Row: the large pair of underwear (a popular throw in the Mardi Gras parades) in the first picture on the top left is what he pulled from under her dress instead of the garter, (of course there was a garter there for him to toss!)
middle top picture is the 'second line' from the ceremony to the reception hall, which was at the Mardi Gras museum in Kenner, La.
top right picture is a replica of the float my Mom was on when she was Queen for the Krewe of Mardi Gras in 1996! She let Bri borrow it and they decorated it with the 'just married' sign and some 'cans'!
then middle row: you have her Mardi Gras wedding cake, them on a float and taking pictures with Hunter.
Bottom row: is their first dance as Husband and wife and the little picture is of the Brides Maids 'bouquets' they carried Mardi Gras masks instead of flowers!!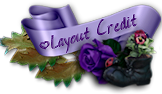 Thanks to Shani of
Wicked Princess Scraps
for the use of her kit,
Strength In Me
, a FTU kit to help raise awareness in testicular cancer. No matter what kind of cancer it is, if you love someone with cancer, be by their side and 'Love them through it'.

Lori

Hello, my name is Lori. I work full time as a Grooming Salon Manager, I LOVE my 4 legged 'Babies'! (Hence the name of my blog) I'm soon to be married to a Great man, Put (actually it's his nickname). I have 2 Beautiful Daughters and 1 Handsome Son. I also have 2 Grandsons, Hunter and Trey, and a Step-Grandson, Logan! In my spare time I love to make tags and scrap page Lo's! I hope you enjoy and come back often!
View my complete profile